I was born and brought up in a Warwickshire village in the 1950s, and attended the local Church of England Primary School. I also attended the Sunday School for a single year and completed one of the attendance stamp albums at the age of 6 (I think). This was my first of many stamp albums - and I still have it.
The concept of Sunday School attendance stamps is said to go back to just before 1907 and the Reverend C. Douglas, who with his brother had formed The Faith Press. Originally printed in London, the press was soon transferred to a cowshed behind an inn (sound familiar?) in Leighton Buzzard, before moving to move suitable premises. However this may version of events seems to have ignored the Church of Scotland reward stamps. Gilbert E. Oliver, of Edinburgh, was a Banknote , Security and General Purpose Engraver, who set up business in 1863. He was responsible for some remarkable examples of the engraver's art, including the superb series of sets of Reward Stamps which were published, by him, on behalf of the Church of Scotland, between the years 1890 and 1913.
The earliest examples of albums in my collection both date from 1914-1915, but there are Church of Scotland stamps earlier than this plus some undated Attendance Card Stamps (see below).
Most of the albums follow the same format, with a few minor differences. There are usually spaces for 52 stamps, one for each Sunday in the year. There may be extra stamps for Christmas Day and good Friday, or one for the child's birthday. The page backgrounds are commonly decorated. The stamps are often for a particular Sunday in the year, and the idea was that they would illustrate that week's lesson. The earlier examples are quite 'churchy' in the illustration and often have biblical quotes or phrases. Later the designs became more simplistic and modern, appealing to younger children; some of those from before 1920 were owned by those in their middle teens, but it is likely that only younger children would have attended once family church services became more widespread. Early examples have thick card covers, often with textured or embossed designs, but by the 1950s they were thinner card. The idea seems to have faded out sometime in the 1960s, as these are the most recent dates for any albums that I have or seen.
Information about these stamps, however, seems rather sparse; even of the Internet. Searching on the publisher's names produces no relevant results. Some are still in business, but they no longer produce the stamps and albums, so they get no mention. The only real sources have been on-line auctions and web sites for heritage museums who have one of these articles in their collection. But here is a listing of my current modest collection of these stamp albums. It is not the religious side of these albums that interests me. It is their collectibility for me that appeals. They are listed by publisher, in no particular order, and then by date. Each album has a brief description and image files. As and when I have more information I will update these pages. Until then, please enjoy them as they are.
It should be pointed out that most of these items were in the possession of children and were carried to and from the church every Sunday for a year. Many are also quite old and have lingered in a box of possessions for many years. They are unsurprisingly in various states of presentability or distress. Many are incomplete. Others are spoiled, from a collector's point of view, by mixing stamps or different sets or dates, or just using the wrong set for the album. But that is how they were collected.
Few albums have full sets of stamps. Obviously it would be unusual for children to be available each and every Sunday morning for a year. I also note that many otherwise well filled albums have empty spaces in July and August. This may be due to this being the main holiday period, but it may be that some Sunday Schools took these weeks off too.
Also included here, on supplementary pages (all titled Other Examples), are images of albums linked to the publisher that are not in the collection. Where the publisher is known and already represented in the collection these link to that publisher's page. Otherwise they are grouped together on a separate page.
Dating some series of albums has proved difficult. The Faith Press albums often have the year on the front page, while others such as Home Words have dates printed for each Sunday allowing narrowing down the year greatly due to the date of Easter Sunday changing each year. Sometimes the child has written the date within the front cover. However, the more recent publishers such as SPCK, CACC, and Shaw Picture Co, do not give many clues and information is fuzzy. Add to this that sometimes it appears the teachers were thrifty, handing out old stamps, even ones from other publishers. One album has stamps from three different sources. This behaviour does make it more difficult to both date and collect these albums.
The collection is limited to the Sunday School Stamp albums and the stamps, but using a bit of license I have also included some, for want of a better name, attendance card stamps. These are essentially the same as the album stamps, but are printed on card, yet are still perforated. like stamps. They do not seem to have albums set aside for collectors, so may well pre-date this concept.

STOP PRESS: I am currently working on scanning in images from all pages of all albums
This will take time, so come back at a later date to view all
I now have around 160 albums and sets of Sunday School stamps in my collection, and intend to increase this. There are images and information of over 50 other albums on the 'Other Examples' pages. I would be interested to hear from anyone who can add to the information in these page, whether it is the background to the publication of the stamps and albums, how the stamps were awarded, images of albums not represented here, or just anecdotes associated with them. In particular any information about these albums and stamps from outside the UK would be much appreciated. I may even be interested in purchasing examples missing from the collection.Please contact me (Steve) via email
Not everybody who went to Sunday school enjoyed collecting the stamps. This is a paragraph from The Golden Goddess and Bloody Times by PF Jeffrey.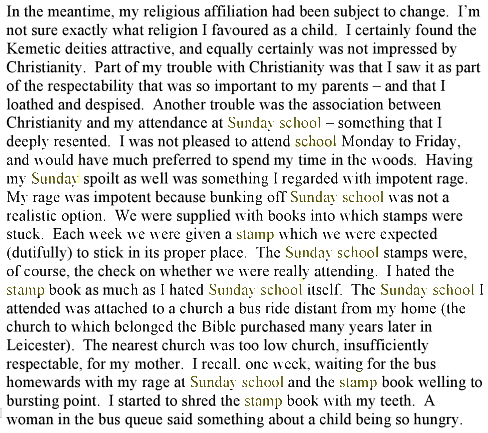 This site is licensed under a Creative Commons Attribution-NonCommercial-ShareAlike 3.0 Unported License.