International Sunday School
The Picture Stamps Company
Paternoster House
London EC
Picture Stamps
(for the International Sunday School Lessons)
This company was an early player in the Sunday School albums with the 1914-15 edition being the earliest in my collection when obtained. But as they have made a late appearance with only one example turning up, they were not a big or long lasting player.
The 1914-15 edition is by far the largest album in the collection, measuring 150 x 208 mm. Its thick card cover, while being plain, has protected the album as it is in quite good condition - impossible to fold in half in order to be accommodated in a child's pocket. It belonged to Elsie Evans of Nelson Terrace, and on the front cover is pencilled 'Dosbarth R. Griffiths' indicating a Welsh origin, though no such road name can still be found within Wales.
Interestingly, there is some further information on the back cover. The perforated Picture Stamps (their term) were printed by Messrs. Thomas Nelson and Sons and issued in sheets of 13 each quarter for 1½d. With this album though it looks like the first quarter of the church year's stamps had not been ordered. Instead a mix of Faith Press stamps have been used, some being repeated such four identical Sexagessima stamps, suggesting old stock was being used up. For the rest of the year though, only 2 of the 39 are missing. These picture stamps are also by far the largest at 48 x 66 mm. With their black borders and picture style they are quite distinctive.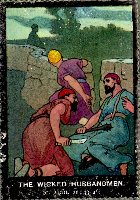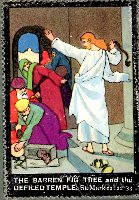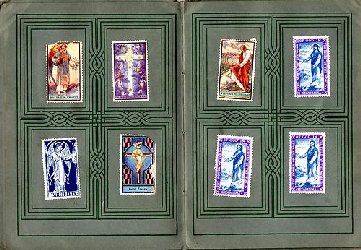 The 'incorrect stamps'.