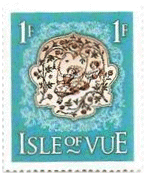 The 2007 issue from the Isle of Vue seems to have involved two unrelated releases. Firstly a 1F stamp in bright blue (for a boy) followed up the 2006 issue design-wise. The stamps were in sheets of 10, and both perforated and imperforate examples are known. There was also a cover with a certificate of authenticity.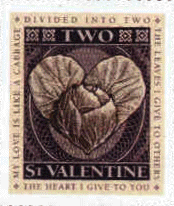 The other issue featured Cabbage Hearts, a pair of stamps in cabbage colours; a red 2F cabbage and a green 14F cabbage. The values obviously reflect the day and month of St Valentine`s Day. They were also printed in sheets of 10, with a single (hard to spot) sheet variant on each. Additionally there was a mixed sheet of both values alternating, hence se-tenant pairs occur. Each stamp was inscribed MY HEART IS LIKE A CABBAGE DIVIDED INTO TWO THE LEAVES GIVE TO OTHERS THE HEART I GIVE TO YOU, and this also appeared in the sheet margin. There was also a miniature sheet with two of each value. There were some imperforate examples released.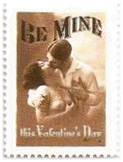 A themed Valentine`s card with a certificate of authenticity was available.
What to look for in this issue?

for a full listing of this issue.