Following the success of the Lucky in Love issue, The Isle of Vue take another story from the folklore of Laernu as subject matter for the 2014 Valentine`s Day stamps. The Bunnies of Love tells the story of Bonnie and Bella, who by chance and coincidence, separately find themselves the only two rabbits on the island. Bonnie, the male, is rather shy, but Bella breaks the ice by presenting him with a flower. This practice, the flower chase, is maintained by all their descendants.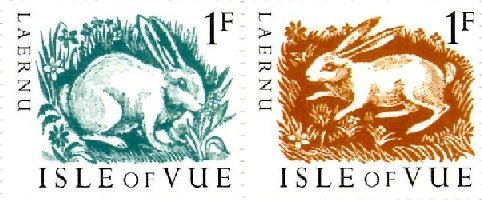 There are two stamps, one for each rabbit, and the variants show them with their flowers, in classic woodcut type artwork. As usual there are covers, a Valentine's card, full sheets of stamps, and a neat mini-sheet of both stamps. An A5 Design Proof shows the development of the artwork. And there were some nice extras for those who bought the full set and for member of the CinderellaStampsForum. These were a proof sheet of the stamps and their variants, and a colour trials sheet of seven stamps in an array of colours.

Naturally were were treated to some further extras. There was a sheet detailing the Bunnies of Love story, together with some descriptions of the different races of rabbits found in Laernu. And we had single imperforate stamps from the colour trials on our mail. Then there was advance notice of an Isle of Vue charity stamp to raise funds for the William Lole Gardens. A sneak preview of this was included inside the card.
What to look out for:
All the sheets, cards, stamps and whatever

The imperforate colour trials on post

Shade variants from different printings used on the two covers; one paler and the other richer colours

The advance imperforate charity stamps

The exclusive Stampex 2014 postcard