The 2009 stamps from the Isle of Vue broke new ground. The theme was the language of roses; for example a red rose, the central stamp to the issue, representing Love and Devotion. The stamp`s shapes were an irregular pentagon, and each had a square (the shape dictated by accommodating both stamps and labels on a sheet) explanatory label.
The sheets consisted of 12 stamps, accompanied by a label, with six red rose stamps and six stamps featuring roses of different colours, again with their own unique meaning. Though these meanings roughly follow our world`s language of roses, there are slight differences, and the blue and the black rose (see next paragraph) are perhaps unique to Laernu. There was a variant red rose stamp on the sheet.
A special Black Rose stamp (Rejuvenation and Start Anew) was available as a special extra and came in its own envelope as did a single red rose stamp. The set was rounded off with a stamped cover and Valentines card showing Cherubs hard at work.
A rare imperforate gummed sheet of 12 red and 8 black rose stamps shows how sheet contents were adjusted to provide the extra stamps for covers.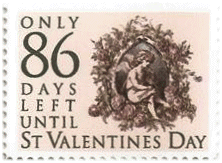 Mailings of an unrelated issue in October the previous year had a postal label on the envelope. It was based on the previous year`s stamp from Vue, and stated Only 86 days left until St Valentine`s Day. These demonstrate that this stamp issue was in preparation at least three months earlier.
These labels have a drawback. They, or at least some printings, use water soluble inks, and by no-means should they be allowed to get wet. Keep them on piece rather than soaking them off.
What to look for in the issue?
The red rose variant

The black rose and its envelope

Imperforate sheets

Single stamps showing roses of other colours