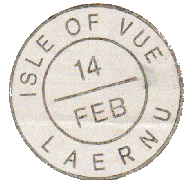 The Isle of Vue is a special place within the Laernu world. Whether it materialises only to celebrate St Valentines Day, or whether it is there all the time is unknown. Its mythology is enhanced by traditional stories such as the Fier-Loben Children tale, which echoes our Hansel and Gretel, and Babes in the Wood. What is certain though is that since 2006 the cheeky Cherubs living there have pulled together and come up with a stamp and set of stamps each year specifically for the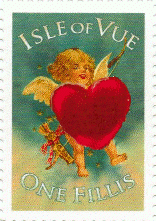 cards sent between lovers.
Valentines Day is the one occasion each year when collectors can be almost certain of an issue from Alan And Colin.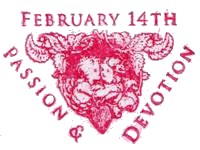 As can be expected, there is as much for the philatelist as there is for lovers. Most issues have come complete with standard and deluxe covers, and there have been some unusual collectables released with these stamps, as well as Valentine`s cards which complement that years stamps. A feature has been special bonus, unavailable elsewhere, items for those who place larger orders. In more recent years members of the Cinderella Stamps Forum have received additional and even more unique items associated with the issues; miniature sheets with design variants; very nice and very exclusive.
Use the menu on the the left to select any year`s stamp issue.