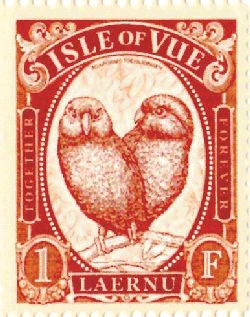 The 2012 stamps featured a pair of Laernu Lovebirds (making a heart shaped silhouette). Originally a single pair had been brought to the Isle of Vue by foreign visitors, but now their prolific habits has meant that are now found everywhere. The bird`s habits are described in Mathilde-Rose Domineau Franq`s treatise The Flora and Fauna of Laernu. A reproduction of the relevant page of the book was included with orders.
Full sheets of stamps, which included a variant design, luxury covers, a Valentines card, a single stamp mini-sheet in its own presentation mount and envelope, and an Artwork Proof sheet (showing the development of the stamp design) were available to collectors.
A bonus for collectors of the full set was an imperforate eight stamp colour trials sheet, with the design in a variety of colours. At least eight of these with different colour combinations have been recorded!
For members of the Cinderella Stamp Forum an additional bonus was a two stamp mini-sheet, with the standard design paired with a different variant stamp. It came in its own envelope.
What to look for in this issue:
The sheet variant

The mini-sheet

The colour trial sheets

The two stamp mini-sheet