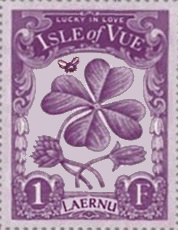 Stories of Lost Children are a common feature of folklore. Think Hansel and Gretel, or Babes in the Woods. Laernu has its own legend of the Fier (or Faer) Loben children; a boy and girl from farming families who, after growing up together, fear being split up by their parents. So they run away from home and make their way to the coast. A drifting boat takes then to the Isle of Vue, where they sleep in a cave, using the four leaf clover growing there for bedding. Bees and butterflies, attracted by the scent of the flowers, supply them with honey and water. The children live alone on the Isle for many years before the return to mainland Laernu.
As usual there is a full complement of stamps, sheets, covers and an Artwork Proof sheet showing the stamp`s development. The variant found on the sheet is more obvious than recent years, with a bee about to land on the clover flower. Single stamps were available in a mini-sheet. Those who bought several items received an imperforate Colour Trial sheet with 8 colour shades or inverted stamps; at least four of these in different combinations have been reported. Members of the Cinderella Stamps Forum received a special mini-sheet with a normal stamp, the sheet variant, another unique variant, and a Edwards/Batley label. Mailings had some unusual se-tenant pairs on their envelopes, with alternative colours and a mirrored stamp. Each of those was probably unique to a collection.
In a pleasant twist, some collectors received photocopies of one or more of the papers used for the background to the artwork and the story portrayed in the stamp design. There were seven papers in all, written by people from Laernu, and they were annotated by the designer to highlight more pertinent sections.
What to look for with this issue
All the design variants

All the colour variations >

and the se-tenant pairs

Miniature sheets

Artwork sheet