The earliest known Isle of Vue stamp shows ornate artwork of a pair of star crossed lovers. Both perforate and imperforate stamps and stamp sheets are known, with pairs of imperforate stamps made available in a presentation folder. The stamp paper actually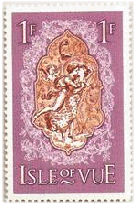 included a few seeds visible from the back. Also available was a numbered FDC with a certificate of authenticity. If anybody knows anyone who sacrificed their stamp to see if the seeds would germinate I would be interested to know what actually grew. Unfamiliar species could be looked up in Mathilde-Rose Domineau Franq`s Flora and Fauna of Laernu, or William Lole`s Isle of Vue Flowers, Shrubs and Grasses.
What to look for in this issue?