The 2019 Valentine`s Day issue sees the focus of attention taken away from the Isle of Vue, migrating to the small Laernuan kingdom of Sinduvarten. The stamps recall the love story of Gordon Evans, a sailor from our world, who visits Laernu on a trading mission and decides to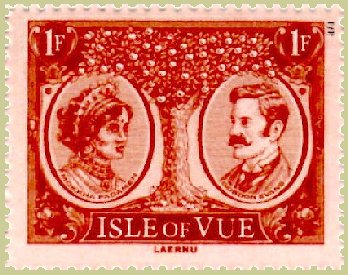 stay there. This is because he has fallen for a local lass, Mokkha. Unfortunately for Gordon, it is not until she has accepted his proposal of marriage on the Isle of Vue that he discovers she is a local princess .... and daddy does not want he marrying anything less than a very rich man. So Gordon leaves for his own home to make his fortune, armed only with a gift of magic apples. They go rotten and inedible, but from the seeds spring apple trees. Alas the fruit is still bad, and whatever venture Gordon tries is doomed. However the apple wood is remarkable, the best for building ships. At last he is successful. He returns to Sinduvarten a rich man and marries the love of his life. But his riches did not come from the apples, but from a board game, Up the Ladders and Down the Snakes. Hence the variant stamps we see in this issue. Look at the trunk of the apple trees on the variants.



Along with the Isle of Vue Valentine`s Day stamps this year we get a trio from Sinduvarten, showing the harbour. On one stamp Evans` ship is leaving with Mokkha waving him off, another has an empty harbour, and the last shows his ship returning. We collectors have the usual stamp sheets, artwork proof and colour trials sheet, with standard and deluxe covers. There are exclusive mini-sheets of stamps for early bird buyers and Cinderella Stamps Forum members, and a first! We get a card with Gordon`s own map of Laernu, compiled from his observations on his voyages. Reproduction pages from Laernu: Eccentrics, Rogues and Villains provide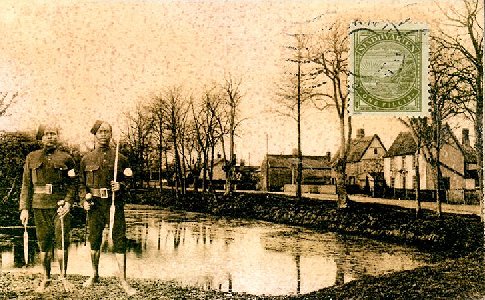 us with the most reliable full background story to the story of Gordon and Mokkha. There is an extract from Gordon`s own published work and some notes concerning the background research into the love story and life of Evans. Then there are vintage postcards, presumably scenes from old Sinduvarten, with some spear-fishing bare-foot soldiers. Will we find out more about them in the future? Probably not.
What to look out for:
The miniature sheets especially the Early Bird special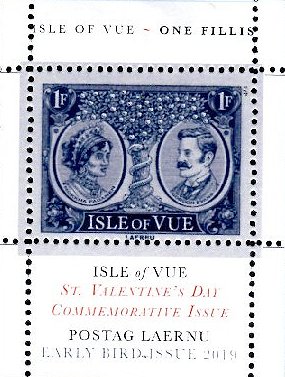 The Sinduvarten stamps
Any tete-beche pairings
The map of Laernu