The story behind the 2020 Isle of Vue stamp is contained within a newspaper clipping. La Maven Resten is a luxury hotel converted from a royal palace. The owners wanted to offer a free weekend prize to their best customers so they trawled through the records and found a couple who had stayed in the same room overlooking a private beach every year since who knows when. Who were they? The staff when questioned always put them at the same age, and the address they gave did not exist, Their identity remains a secret even now.
This stamp continues a theme for the Isle of Vue commenced in 2012 with the Love Birds issue. Again we were treated to covers, a range of variants in one-stamp miniature sheets, artist`s proof, colour trials and of course a copy of that news clipping - which incidentally revealed on the other side what goes on behind the scenes at the baabaaten shearing.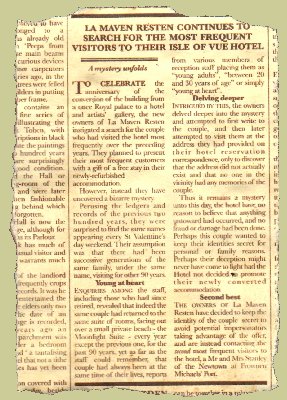 There were even a collection of famous love quotes on a series of 32 stamp labels spread over two sheets.
What too look out for:
all the variants
the press clipping
the limited edition mini-sheets
any escapees from the colour test sheets
all or any of the quotes labels