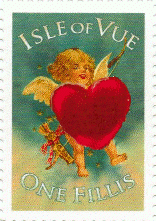 The theme for the 2010 issue was Cherubs, with big hearts - literally. The standard stamp shows a cherub holding a heart bigger than its body. The sheet of stamps had a variant design, and there was an additional variant with two extra stars in the background. The issue was complete with a Valentines card, high quality covers (standard and deluxe), and a special proof sheet of all the Isle of Vue stamps from 2006 to 2010. Single stamp purchasers received theirs in a signed mount in its special envelope. There was even a packaging label with a cherub motif for mailing of orders. Did you save yours?
There were, however, further rarities to collect. Those who ordered a full set of items received a strip of four big-hearted cherub stamps with For My Valentine in different styles on the hearts. These came in their own special envelope.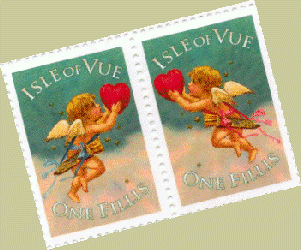 Meanwhile for those who placed their orders early received a pair of stamps showing an alternate design with a blue ribboned boy cherub facing a pink ribboned girl cherub, both holding a smaller heart. The variety did not end there, for there was a no-stars variation of this pair too. Even this is misleading because on the sheets produced for these stamps the variants are on different rows. These sheets came in a special envelope and were a bonus for members of The Cinderella Stamps Forum, who if an Early Birder also received the no-stars variant pair.
This so-called alternative design was actually intended as the official version after test sheets had been printed, but a slip up meant the Big Hearted version had to take its place.
What to look for in this issue?
Standard and alternative big hearted variants

The For My Valentine four stamp strip

The alternative designs

And the No Stars variants, especially as a se-tenant pair

All the associated paraphernalia